I'm sure we're all looking forward to the end of Winter with those heavy rugs on horses, extra feeds and muddy paddocks. Bring on Spring!
We seem to have been lucky again at our last rally with the weather and at our recent event.
A big thank-you to all competitors and helpers. It was a fabulous day and we had some really positive feedback. Thanks again to Rachael for doing the entries, times and organising sponsorship rugs and Stella for organising the canteen. And of course, thanks to all our families for coming along to support the day!
This rally, we have our usual fabulous instructors and some games in the afternoon. I think Kylie is going to bring the Polo racquets if you wish to have another play with these.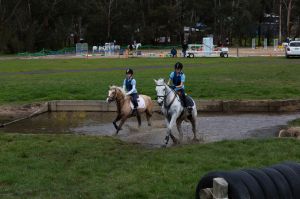 Thank-you to Julia Walker who is willing to run an event next year and to Julia Gibson who is going to organise the Gymkhana with an emphasis on show jumping (including a possible 6 bar championship) and lots of fun games!
It is fabulous to have some new faces take on some roles. Rachael and myself have been working on events for quite a few years and both of us are learning the role along the way. We both have built up contacts with judges, sponsors and information on ordering ribbons etc that we can share with other members. We look forward to handing over this role after many years running events at Hurstbridge Pony Club.
Happy Riding, Andrea Barton